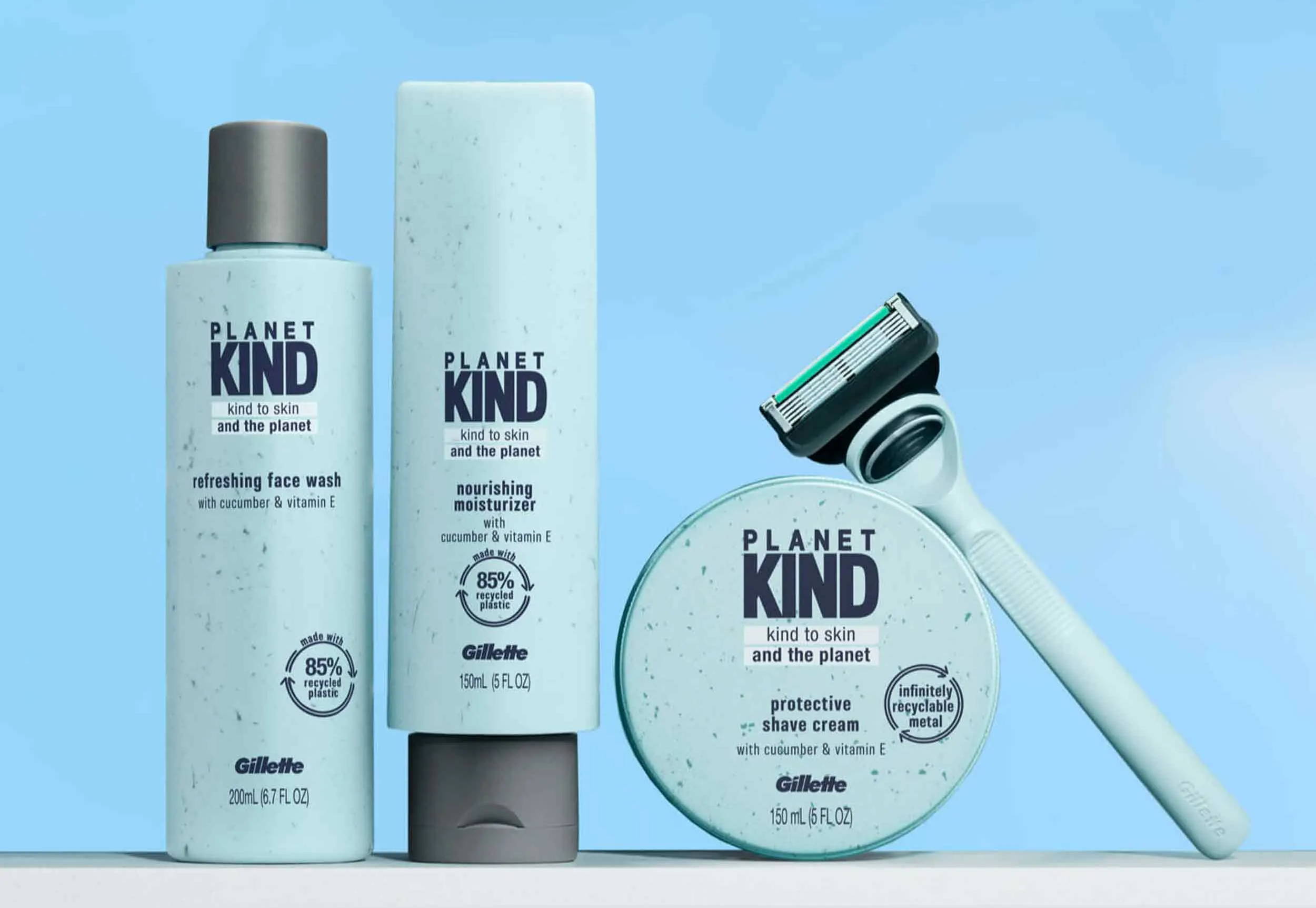 Planet Kind is more than a shaving and skincare brand. It's a movement. A journey to a bright and beautiful future where everyone is kind to each other, their skin, and the planet. That might sound cliché, but in a world of cynics and naysayers we dare to be optimistic. We believe that long-lasting products, gentle ingredients, and packaging that's recycled and recyclable can make the world, and your face, a better place.
The Planet Kind movement started with Gillette's plan to have 100% renewable purchased electricity, 100% of packaging to be recyclable, and a 35% water reduction per production by 2030. Inspired by this initiative and the progress that's already been made, some of us within Gillette seized the opportunity to do even more in 2021. We wanted to make a brand that both embodied Gillette's mission and brought us one step closer to achieving it. So, we set out to make a set of products that are kind to skin, using our expertise in crafting superior shaving and skincare products, and kind to the planet, applying our growing knowledge of sustainability. And from that, Planet Kind was born.
We've talked a lot about ourselves so far. Let's get into the most important reason for making Planet Kind. You. We wanted to make a sustainable brand for people who want to do more for their skin and the planet but aren't sure where to start. We're a brand for people on this planet with skin (also known as "everybody") that fits into any routine. You're as big a part of the journey to a kind future as we are. And because we're always searching for ways to make the kindness go further, we've even partnered with Plastic Bank to ensure that every Planet Kind product you purchase prevents the equivalent of 10 plastic bottles from entering oceans.
Planet Kind isn't just a product. It's a promise, and a place. Getting there takes all of us, and the understanding that none of us are perfect but we're getting better all the time. Protecting our planet is a full-time job that requires continuous improvement, and we know that there's always more we could be doing to bring our vision to life. Where we are now is only the beginning. We want to learn with you, grow with you, and be kind to your skin and the planet along the way. We're proud of where we came from, but even more excited about where we're going. It's gonna be awesome. You should come.
This is the end of the article, but not the end of the discussion. Reach out anytime with suggestions, complaints, or just to say hello.